Login
Log in if you have an account
Dont have an account? Register
Honoring Military K9 Miss Kim
16 Jul 2021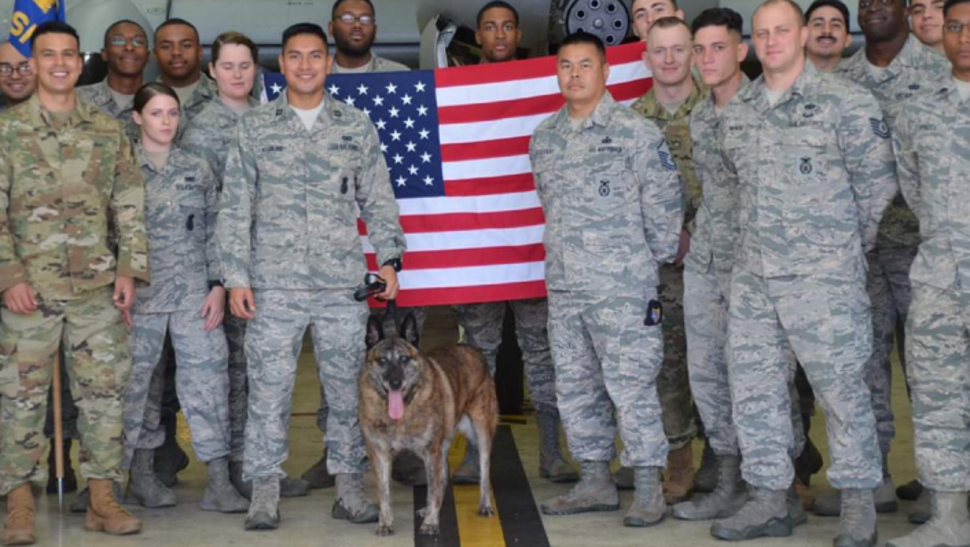 March 13th is National K9 Veterans Day, celebrated on the official birthday of the US Army K9 Corps, which was formed in 1942.
After the bombing of Pearl Harbor in 1941, dogs were called to duty.  Dogs for Defense was a program initiated by a private citizen, the American Kennel Club, and a handful of breeders.  The group aimed to train the dogs for military use.
Today, Military dogs are trained at Lackland Air Force Base located in San Antonio, Texas, and have been since 1958. More than 1,000 dogs are trained at any given time by a staff of 125 from all branches of military service. The complex training techniques are designed to utilize the dogs' natural gifts for focus and aggression to their advantage. They are trained in bomb, weapon and drug detection, tracking, and to attack the enemy. The training can take up to 2 years. The dogs can detect weapons, bombs, gases and drugs more accurately than any available military equipment. Currently, there are about 2500 dogs in active service and about 700 of those are deployed overseas. 
A military dog's days consists of eating, working, sleeping, and repeating.  Their average military career can range anywhere between eight to ten years before retirement.  The reason for retirement can vary, but usually it is due to the inability to perform the required task.  Most of the time they retire because of medical reasons.  A military dog's life is hard.  They don't receive the common luxuries of an ordinary dog's life. Working relentlessly and biting constantly puts a lot of strain on their bodies. As the dogs age their bodies deteriorate. 
Retirement of a military dog is a lengthy process.  It consists of a series of training and tests as they attempt to un-train the "military" out of the dogs and socialize them to civilian life.
Until November 2000, military dogs were euthanized or abandoned after retirement. Prior to November 2000, service dogs were considered "military surplus equipment" and deemed unfit to adjust to civilian life. These heroes were often put down instead of adopted. President Clinton passed "Robby's Law" in 2000 which allows handlers and their families first dibs at adopting military animals at the end of their useful service. The dogs are next offered to law enforcement, then adoptive families.
Specifically for the Air Force, whenever a dog retires from the service, their previous handlers are given the first opportunity to adopt a military dog that they already know and cared for.  If no previous handlers are interested or able, then the announcement is usually made within the K9 handler community. If the dog is still unclaimed, the adoption announcement is then released to the Security Forces unit or base populace. 
Miss Kim was trained at Lackland Air Force Base and spent the majority of her duty years in Osan, South Korea working patrol.  Osan is only a 1-year assignment, therefore, Miss Kim received a new handler every year. Per her owner, she likely worked patrol because she "failed out" of bomb and drug detection training.  While on Patrol, she would escort subjects and provide protection to her handler. From the stories her handlers were able to gather, Miss Kim was known to be quite stubborn during her glory days.
When she wanted to be done working for the day, she let her handler know by refusing to continue her work.  She loved apprehension and was a "biting beast."
During December of 2018, Operations Officer, Kevin Aguilar was stationed in Osan, South Korea working in Security Forces.  While visiting the kennel, he was approached by the Kennel Master about the adoption of some eligible retired K9's.  Kevin was introduced to two K9s, Miss Kim and another German Shepard. He took a picture and messaged his wife, Operations Officer, Emily Aguilar who was stationed in Washington D.C.  Emily thought Miss Kim's eyes were sweet and they decided to adopt her.  American Humane stepped in to help with the logistics. 
American Humane has been serving the United States Military for a century. Their rescue program was born on the battlefields of World War I Europe, where, at the request of the U.S. Secretary of War, volunteers with American Humane deployed to rescue and care for 68,000 wounded war horses each month. They continue to honor this legacy today through American Humane's Lois Pope LIFE Center for Military Affairs. The program protects America's hard-working military dogs and recognizes their heroic contributions to our country – both on and off of the battlefield.  American Humane paid for Miss Kim's travel to the United States.  She was flown to California.  There, she was assessed by a veterinarian and subsequently flown to Washington D.C. to meet Emily. 
Adopting a retired military dog is not for the faint of heart.  The transition to civilian life can be hard, and it was.  Miss Kim's transition into civilian life wasn't all roses. Even though she passed the retirement tests, she went through a rough period in the beginning.  For the entirety of her life, Miss Kim only knew how to be a military working dog.  She didn't know how to be a normal civilian pup.  She was quite destructive, chewing baseboards, towels, toys, laptops and shoes.  Emily's commander at the time was very understanding, allowing her to bring Miss Kim to work, easing her transition.
Additionally, many retired military dogs have continual health issues after their years of service, requiring constant medical care.   American Humane continues to care for Miss Kim. Any medical needs are paid for the remainder of her life, a small token as a thank you for a hard life of service.
Opening your heart up to a senior dog can be hard.  The time that you have left is fleeting.  Miss Kim was already 10 years old when they adopted her.  The Aguilar's are making up for lost time and filling what few years they have left with love and all the luxuries of civilian life.  Wondering what a day in the life of Miss Kim looks like now?  It consists of a lot of sleep and couch time.  She never knew the comfort of a couch until the Aguilars adopted her. Rather, she only knew the life of work, services and sleeping on cold hard concrete.  Now she loves the couch.  She is completely spoiled, going on walks and chasing bunnies and squirrels in the backyard. 
We met Miss Kim in March of 2019 when her parents stopped by Fetch to tour our boarding and grooming facilities. She instantly became a Fetch favorite. It's hard to envision Miss Kim as a "biting beast" as she gently walks around the yard and wags her tail for belly rubs.  As you pet Miss Kim, you'll notice "P326" tattooed in her ear, a permanent reminder of her life as a military K9 and her service to the country. 
On Military K9 Veterans Day, we not only celebrate Miss Kim's service to our country, but also her birthday.  She is 13 years young!  Happy Birthday Miss Kim and thank you for your service. 
Special thanks to Kevin and Emily Aguilar and Miss Kim for sharing their story with us. 
If you are interested in adopting a retired military dog, there are many organizations that are devoted to helping find fur-ever homes for these amazing soldiers.  Organizations like American Humane and Mission K9 Rescue place these retired heroes with suitable families and ensure they are given the honorable discharge they deserve.