Login
Log in if you have an account
Dont have an account? Register
The Power of Patience
21 Jan 2020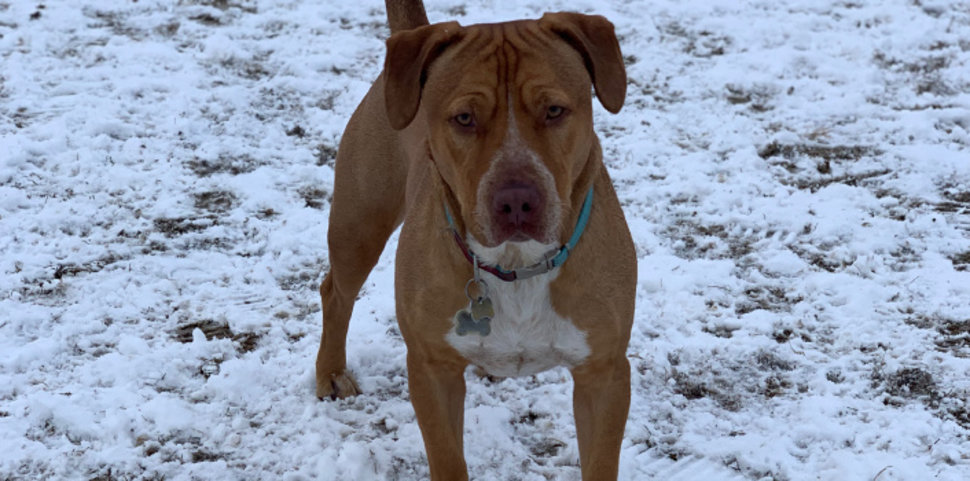 When Tank arrived as a stray at the Great Falls Animal Shelter, he was scared and untrustworthy of humans. Not wanting to be touched, he would lunge at anyone who would come even remotely close to him.
After three weeks of not wanting anyone to approach him, a shelter employee was walking by and noticed that Tank was near the front of his gate instead of cowering in the back. It was in that moment, Tank was ready to move forward. He slowly began to trust again. The employee began talking to Tank and the two became fast friends. The employee walked Tank as often as she could. With each passing day and each walk, Tank began to come out of his shell, piece by piece.
Tank became available for adoption and waited patiently for a family. After three months, a family showed interest in Tank. The staff was so excited for him. He met the family as well as the family dog and was happy and playful. The shelter was so excited to see Tank get a home, but it was too good to be true. The very next day, Tank came back. The family indicated Tank became very possessive of the human male in the family and of toys.
Sadly, Tank was back at the shelter once again, each day waiting for a perfect family to find him. The shelter staff decided to take proactive steps to help Tank with his behavioral issues. They took him to obedience classes and Tank thrived. The staff at the shelter introduced him to several different dogs, and he was able to play with them. Not once did they notice him becoming possessive of anyone or anything. Six months later, in early in September of 2019, Tank met his forever family and couldn't be happier. The family was the perfect fit.
Today, Tank is no longer fearful of people and regularly attends daycare at Fetch. He is a staff favorite and has many friends! He is an absolute joy to be around. It's hard to imagine that the Tank everyone knows and loves today at one time didn't want human contact. The shelter employee that put in the extra effort for Tank sees him on a regular basis. To this day, he gives her doggy kisses, thanking her for believing in him!
Thank you to Karen Hockenberry and the rest of the Great Falls Animal Shelter staff for believing in Tank. Thank you to Sarah Harris and her husband for being the best rescue parents that Tank could have asked for.
Never underestimate the power of kindness and patience. You may not know where a rescue dog came from or their back story, but you can change their future. Adopt a shelter dog and save a life!